Make your iPad® Tablet Work for You: 8 Tips and Secrets You'll Wish You Knew Sooner
Content Provided by Experimax Parker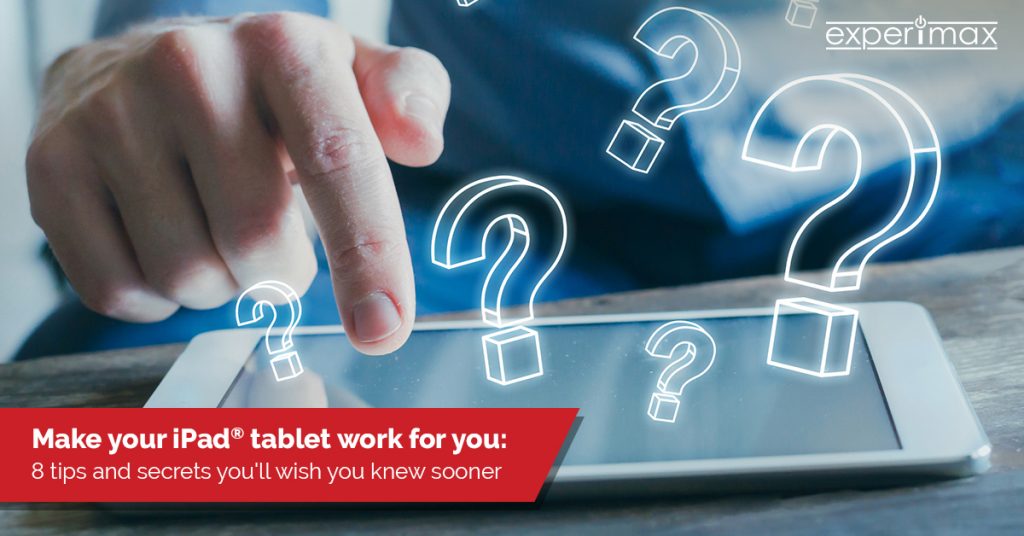 Apple's iPad tablets revolutionized portable computing for families, professionals, and everyone in between. Since their advent, there have been numerous models, and each model has offered a variety of options. Apple's iPad models include iPad Pro®, iPad Air®, iPad®, and iPad Mini® tablets. Through the years, they have developed numerous versions for each model, and the high quality and productivity has always remained constant.
Here are 8 tips to help you utilize and enjoy your iPad tablet:
Check Your Screen Time: Users can rely on this feature to keep them informed as to the usage. This can be helpful to families and parents who wish to monitor and control screen time. It's also beneficial to anyone who wants to understand how often they interact with their digital device. Additionally, users can set time limits to manage how they are using their iPad tablet.
Create a Memoji: Create your very own Memoji to match your personality and mood. This can be used in Messages and FaceTime® feature. A highlight of this feature is the ability for users to use their Memoji in place of their own face through iMessage® and FaceTime features. This feature is only available on certain models.
Create new folders: Folders enable users to group apps together based on the user's preferred organizational method. To create a folder and to add the apps directly to the folder, click on an app, hold fingers down then drag over another app. Once the user releases their fingers, the two apps will be grouped together in the folder that was just created.
Battery and Power: To increase your iPad tablet's battery life, always update the software. Often, the software upgrades include performance updates which help increase battery power and more.
Temperature control: It is specified by Apple Inc.® that the iPad tablet works best when in ambient temperatures. This amounts to keeping the iPad tablet at temperatures around 32 to 95 degrees Fahrenheit. Keep your device on the cooler side to prevent over-heating.
Screenshots: Screenshots are automatically added to the Photos library. To "take" a screenshot, press the Home and Sleep buttons together. The device will make a sound, similar to a click, which means you have created and saved a screenshot. Screenshots are one of the most effective ways to stay organized.
Drag and Drop: This feature enables users to drag various files between apps and more. With drag and drop, use a finger to move text and items within an app and copy items from one app to another. For example, you can drag text from Safari into an email, an image from Photos into a note, or a calendar event into a text message. However, not all third-party apps support drag and drop.
Control Center: The Control Center on the iPad tablet enables users to take a photo, connect with other devices and platforms, and more. The Control Center gives instant access to whichever functions are used most. Customize the Control Center and adjust the settings through Settings, Customize Control, and then add or remove permissions.
Ready to make the leap and purchase an iPad tablet but not sure which model is best for you? Stop by your local Experimax store where our local Apple product X-perts are ready to help you make the right selection for you.