Why Men Should Take Dance Lessons
Content Provided by Fred Astaire Dance Studios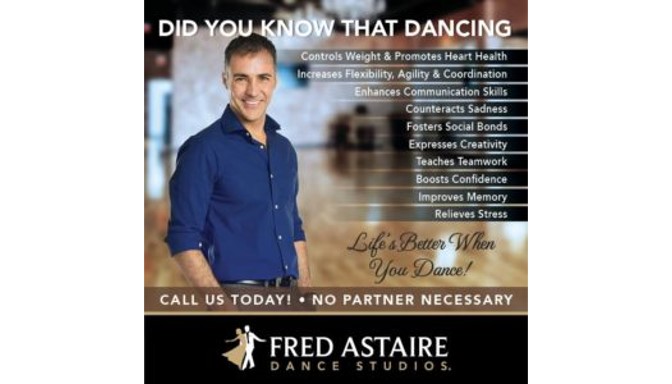 Gentlemen, it's time to get out on that dance floor and move! The benefits are innumerable and the downside is non-existent.
For one, dancing is a great way to meet others, especially at your local Fred Astaire Dance Studio. It's a low-pressure atmosphere and you'll be among folks with a common goal – learning to dance. An enhanced social life is a mood-elevator, causing the brain to generate endorphins. Endorphins create that happy feeling and help battle depression and fight stress.
Dancing and dance lessons are great not only for the body, but for the mind. The body benefits from the physical work, and in the more energetic dances can burn up to 10 calories a minute. Put in half an hour on the dance floor doing the mambo and it's a workout! Get your cardio conditioning on the dance floor, while also improving your balance and flexibility through dance.
Learning dance steps also engages the brain by giving it new patterns to master, which helps keep you sharp and on top of your game.
Men sometimes say they feel funny dancing, but that's an attitude quickly squashed with ballroom dance instruction at one of our dance studios. No one judges you, and you will learn to stop judging yourself as you pick up the steps and garner encouragement from your dance instructors, dance partners, and new friends!
Are you ready to enjoy the benefits of learning how to dance? Sign up for our dance classes today!