Meet Melissa Grosboll – owner of Dough Dreamery!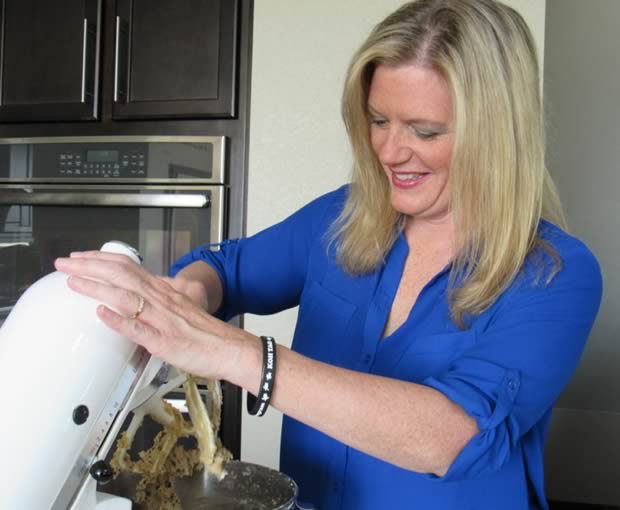 Melissa Grosboll is the founder and creator of Dough Dreamery, right in the heart of Downtown Parker! Dough Dreamery's dough is made with only the best ingredients and no preservatives. They use pasteurized eggs and heat treated flour so the dough is always safe to eat raw!
Q: What's your favorite thing about Parker?
A: My favorite thing about Parker is the community feel. No matter how big this town gets, it still has a small town vibe and all the local events (like the farmer's market, parades, and tree lighting) really bring the community together.
Q: Any family or pets?
A: I've been married for almost 27 years to my husband Jon, have a 21 year old daughter Dani, a border collie named Molly, aged 13, and two cats, Sally and Sabrina, aged 15.
Q: What's your favorite cookie dough flavor?
A: My favorite cookie dough flavor is peanut butter, always has been, probably always will be. One of my favorite things about owning this company is experimenting with new flavors. We have two to three "flavors of the month" and I love coming up with new ideas for those flavors.
Q: What other fun facts should we know about you?
A: Fun facts? Well, I was a chiropractor for 20 years, before retiring to open the shop. I love to read, and exercise is my stress reliever. You'll find me almost every morning by 6 am at Planet Fitness. I have to exercise to burn off all that cookie dough!!
Dough Dreamery is all about bringing joy into the lives of as many people as possible. We are on a mission to improve mental health. We donate a portion of our sales to organizations that help prevent suicide and work to remove the stigma of mental illness.