As winter creeps into the South Metro Area, Parker and Castle Rock fully prepared with great family-friendly winter activities! We're lucky to live in a state where we can take advantage of the beautiful outdoors even in the colder months. From holiday attractions to ice rinks and more, check out this list of family-friendly activities you won't want to miss this season.
Parker Ice Trail at Discovery Park
The Parker Ice Trail at Discovery Park has become a local favorite! This ice trail located in Parker is one of the only ones in the country and it feels as though you are skating down a beautiful frozen river or canal. Once you have finished skating you can warm up next to one of the three fireplaces around the trail while sipping on some hot chocolate. This year the Parker Ice Trail is having all visitors reserve a 2-hour time block on their website. So don't forget to claim your family's spot! Ice Skating is a staple activity in the winter and luckily this ice trail is open 7 days a week and provides skate rentals for $4.
Rink at the Rock
Downtown Castle Rock also has a beautiful ice skating rink for families with kids of all ages! With an open-air covered rink, you'll be able to enjoy an afternoon skating while being shielded from any precipitation. This year, capacity is limited, so be patient if there's a line! Admission is $10 for adults and $8 for kids 11 and under. Skates can be rented for an additional $4, or you can bring your own! Head to Castle Rock's Rink at the Rock page for more details and holiday hours.
Holiday Experiences in Downtown Parker
This winter make sure to head to Downtown Parker to fully embrace this holiday season! Downtown is graced by beautiful holiday lights and decorations, with music played all along Mainstreet. The town has also added other areas around town that kids will love! You can visit Candy Cane Lane at Discovery Park, Toyland on Mainstreet, and Santa's Workshop at O'Brien Park. If you are looking for even more activities for the whole family make sure to go to downtown Parker on the weekends to meet Rudolph, Santa's Elves, a toy soldier, a gingerbread man, and a Christmas tree. These characters will all be strolling around downtown every weekend through December 20th. Another great activity taking place this winter is the Elf Around Town Scavenger Hunt. If you spot the Xfinity elf downtown on the weekends make sure to take a picture and post it to the Town's Facebook to be entered into a drawing for a TV. The Town of Parker has done a great job to create a magical holiday atmosphere this winter!
Blossoms of Light at Denver Botanic Gardens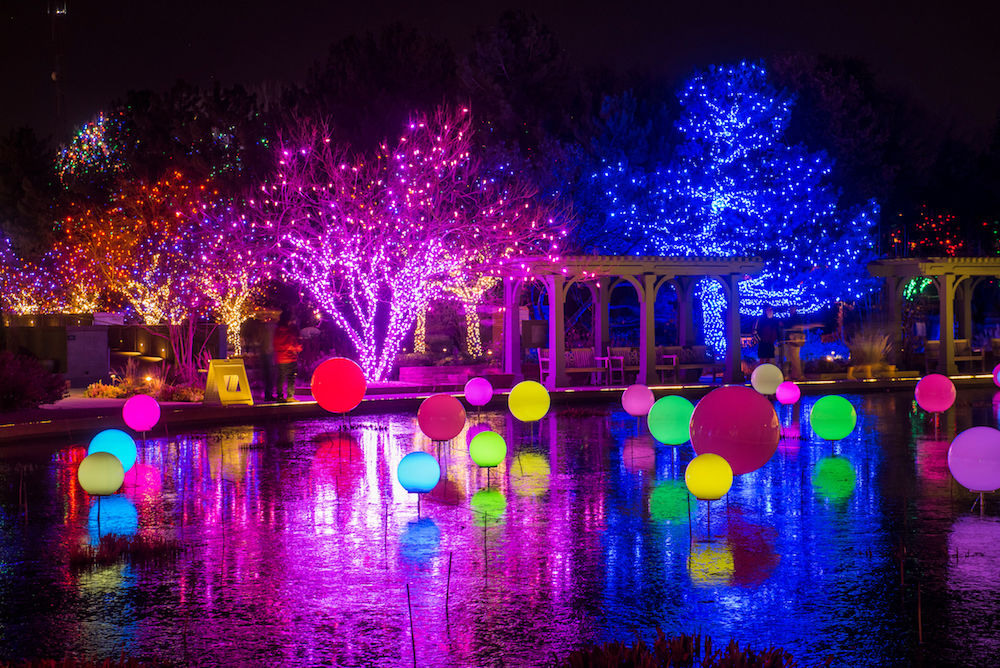 This light show is a beautiful event that the Denver Botanic Gardens has created for over 30 years. Bring the whole family to the Botanic Gardens location on York Street. This extravaganza of lights is a great way to celebrate the holiday season! A beautiful display of changing lights and colors makes you feel as though you are walking through a winter wonderland. Bundle up and walk through this magical display of lights with holiday treats and hot chocolate for another great activity to embrace the holiday season. There is a limited capacity and timed tickets this year so make sure to get your tickets early in order to guarantee entrance to this twinkling wonderland. Can't get tickets, or want even more lights? Check out the Denver Zoo Lights too!
Snowshoeing
Living in the great state of Colorado allows for wonderful outdoor activities all year long. Most people automatically think of skiing during the winter months, but another great outdoor activity this state offers is snowshoeing. Some great trails not too far from Parker and Castle Rock are Spruce Mountain Open Space Trail, Golden Gate Canyon State Park, and Echo Lake Park.
Spruce Mountain Open Space Trail is located between Larkspur and Palmer Lake. For beginners you can start by snowshoeing around the meadows at the base but if you want more of a challenge you can hike to the top of the mesa. Golden Gate Canyon State Park has 35 miles of trails, and most are flat which is great for beginners. In this state park, you will have beautiful views and a good chance to see wildlife. Echo Lake Park is at the base of Mount Evans and makes for an easy adventure for you and your family. With one trail that is a 1.3-mile loop that is great but if you are looking to go farther there are more options that can take you deeper into the woods. Snowshoeing is a great option to get outdoors this winter and enjoy the company of those around you.
Head to the Mountains!
Looking for a longer day trip or weekend getaway? Head to Dillon and see their award-winning ice castles! These frozen ice castles are made up of hundreds of thousands of icicles placed on by professional ice artists. Within the castles, there are fountains, LED-lit sculptures, ice-carved tunnels, frozen thrones, slides, and more. These magical ice castles are sure to impress anyone who attends this attraction. These ice castles have brought joy to many families over the years and continue to do so throughout the winter months. The Dillion Ice Castles also suggest you buy tickets to reserve a spot before heading up to enjoy the spectacular view of these castles.
Or, find one of Colorado's many natural hot springs! Many of Colorado's attractions are physical-activity based, but this one is all about relaxing! Some locations that have amazing hot springs are Steamboat Springs, Pagosa Springs, Glenwood Springs, and more. Many of these hot springs offer water slides and other kid-friendly activities. Kick back, relax, and enjoy a beautiful view of the mountains while enjoying these naturally-sourced bodies of water. Just be sure to check each venue ahead of booking due to possible COVID-related restrictions.
As the winter months roll in and this year comes to an end make sure to enjoy all the great activities found around town and across Colorado. Enjoying and spending time with your family is important especially after the interesting year we all just endured. All the family-friendly activities are a great way to spend time with those you love. From adventurous outdoor activities to holiday experience you are sure to end 2020 in a positive light!
Photo Credits
Parker Ice Trail
Rink at the Rock
Downtown Parker Gazebo
Botanic Gardens Blossoms of Light
Snowshoeing
Dillon Ice Castles
Hot Springs