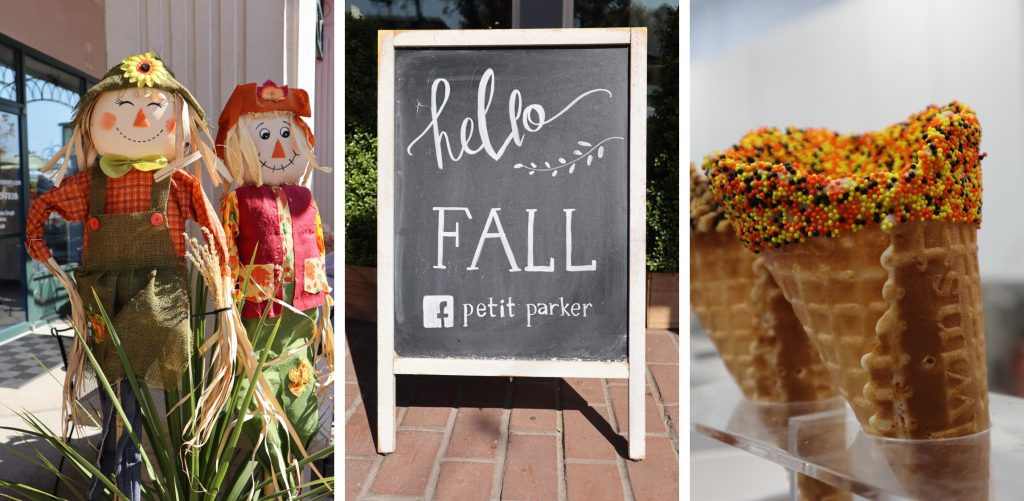 Fall calls for comfy sweaters, seeing the beautiful colors of Colorado, and of course delicious fall flavors like Pumpkin Spice! Luckily, Parker has the best places to get your fall drinks and treats. From lattes to cocktails, froyo to caramel apples, our town has many great options to satisfy those fall cravings. Here are some of our favorites:
Get Your Caffeine Fix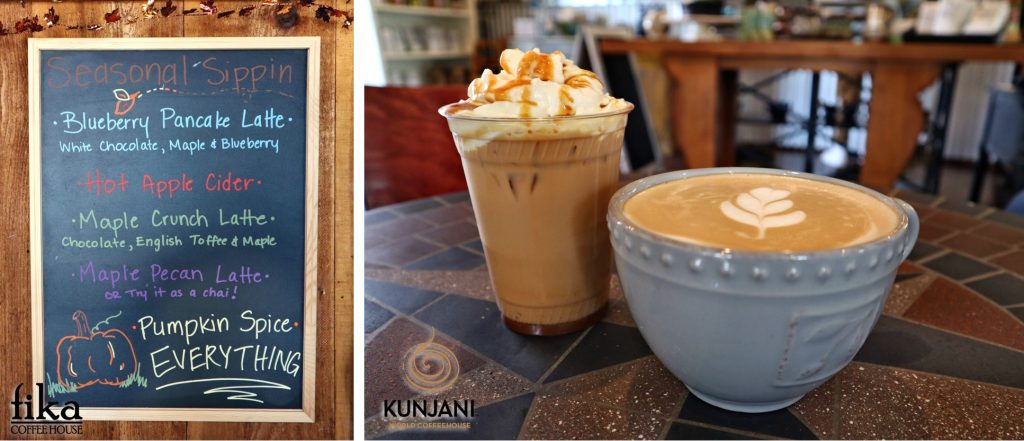 If you are looking for a delicious way to stay warm this fall head over to Fika Coffee House or Kunjani World Coffeehouse to enjoy some delicious fall-flavored coffee drinks! Fika has everything from hot apple cider to delicious fall flavored lattes. Enjoy a Maple Crunch Latte that is made with chocolate, English toffee, and maple. Fika also offers a Maple Pecan Latte that can also be added to chai for a delicious pick me up!
At Kunjani you are sure to find your perfect fall drink. Their White Pumpkin Mocha is a must-try this season! As well as their Fireside Latte, which is a delicious combination of dark chocolate and butterscotch. Of course, no fall season would be complete without adding pumpkin spice to every caffeinated drink in sight – which you can do at either of these local coffee shops!
Satisfy Your Sweet Tooth

Many local businesses are offering delicious sweet treats this fall. With so many great options, you are sure to find something for everyone! If you are looking for a cold fall treat look no further than Swirls Frozen Yogurt, Rita's Italian Ice, or Kilwins. Swirls is now offering their pumpkin-flavored frozen yogurt which is paired perfectly with a candy corn, butterscotch chips, or Reese's pieces on top!
Kilwins has turned two fall classic desserts into two delicious ice cream flavors. Their apple pie ice cream and pumpkin ice cream with real pie crust in it will sure to be a crowd favorite! Kilwins is not only offering fall ice cream flavors but also caramel apples and Halloween-decorated chocolates and goodies to help you get in the Halloween spirit, all made in-house.
To help get you into the spooky spirit, Rita's Italian Ice is serving Zombie Blood Treats! Don't worry – the main ingredients are just Cherry and Black Cherry. Head over until Halloween to check out these spooky gelati, shakes, and blend-ins.
For all of the child-at-heart cookie dough lovers out there, Dough Dreamery is now offering a pumpkin cheesecake cookie dough. This delicious edible cookie dough is made with real chunks of cheesecake and graham cracker crust, which will be available through Thanksgiving! Plus, kids will love the Monster Mash dough, available through October.
Don't forget to check out West Main Taproom + Grill for their seasonal pies, cheesecakes, and other desserts, which are frequently updated!
For the 21+ Crowd

When you're ready to leave the kids at home, head out for some seasonal beer and cocktails! Downhill Brewing has their signature Elktober Seasonal Beer on tap. This lager is made with traditional ingredients imported all the way from Germany. The beautiful caramel color makes it look like the perfect fall beer but the crisp finish and subtle floral aroma proves that it is!
If you make a quick drive down to Castle Rock, you have to check out Colorado Cork and Keg's seasonal cocktails. They have taken fall flavors to a whole new level with their many unique fall drinks! You do not want to miss out on any of these delicious options. Now available to order is the Peanut Butter Cup Martini, Pumpkin Mule, Apple Pie Moonshine Mule, Apple Cider Mojito, Pumpkin White Russian, Whitney's Homemade Snickerdoodle Cookie Shot. These fall drinks are sure to cover all of your fall-flavored cravings and also offer the perfect way to end a fall night.
These local restaurants have provided the perfect drinks and treats for everyone in Parker to fully embrace the fall season! With so many great fall options everyone will find something they love! Taking a break and stopping by one or more of these local restaurants is guaranteed to let you enjoy the fall and all it has to offer in the beautiful town of Parker.