Colorado is a dog's paradise. With so many hiking trails and outdoor adventures, they make the perfect companion! We compiled a list of great dog parks, pet-friendly restaurants, and other activities to keep your dog by your side all day.
1. Bayou Gulch Dog Park
This Douglas County Park is just 5 minutes south of Parker near Ponderosa High School. Let your dogs off-leash at this free, fully-fenced dog park. Your dog is free to run and play with their new friends. Another great part about this park is that there are trails nearby, so you can put your dog back on-leash and take a hike!
2. Glendale Open Space Trail Dog Park Castle Pines
Glendale Open Space is open one hour before sunrise and one hour after sunset. This 17-acre open space is fenced, so your dogs are welcome to be off-leash. Your dogs will have a blast meeting new friends and playing on the agility course that the park has set up. This park is located at the base of the Glendale Open Space Trail and has a large parking lot located at the entrance.
3. Cherry Creek State Park Dog Off-Leash Area
This unique Dog Park is 107 acres with a terrain of a short grass prairie and the Cherry Creek running through it. This state park is a dog's dream with new smells to experience and new places to explore. Let your dog off-leash and see them run through this open field and splash in the creek. It is open from 5 am to 10 pm and does have a fee. But if you become a frequent visitor, a yearly pass is available for purchase. It's a beautiful place to let your dog off-leash and enjoy the views yourself!
4. The Outlets at Castle Rock
This shopping center is one of the biggest outdoor shopping centers in Colorado. It has incredible views of the rocky mountains, and welcomes you to bring your pets along! It has more than 100 stores within the shopping center and a food court with many different options. Get shopping with your best friend by your side at The Outlets!
5. Downhill Brewing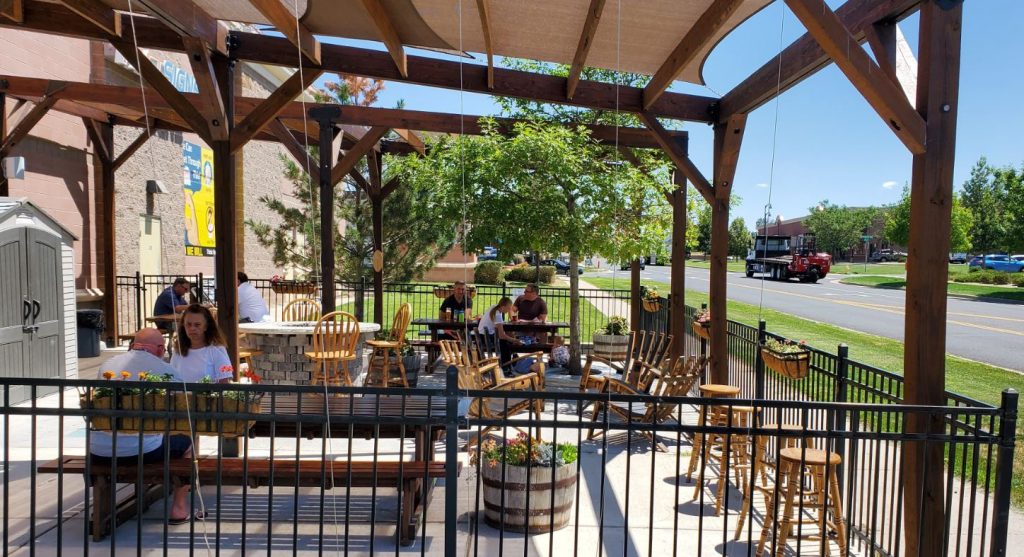 Downhill Brewing is a dog-friendly brewery with a lovely back patio where you can enjoy a drink and delicious food with your dog by your side. With a passion for craft beer, this Parker brewery is the perfect place to experience local beers alongside a delightful slice of pizza on a beautiful day. It is always hard leaving your dog at home, so next time you decide to go out for drinks, take them with you, and enjoy the patio at Downhill!
6. Hideaway Bar and Grill
Another dog-friendly restaurant nearby is the Hideaway Bar and Grill in Castle Rock. This restaurant has a large upgraded dog-friendly patio! Another great spot to bring your dog to when you can't leave them at home. The Hideaway Bar and Grill has a diverse menu and a fantastic happy hour on Mondays, Trivia on Wednesday, and Karaoke on Thursday and Saturday nights.
7. Parker Station – Swirls & Dough Dreamery
Located in Parker Station on Mainstreet, Swirls Frozen Yogurt, and Dough Dreamery, both have a great dog-friendly patio space to enjoy sweet treats! Swirls always offer 12 different flavors of Frozen Yogurt, and Dough Dreamery is a safe and delicious way to eat raw cookie dough, including gluten-free options. Don't forget to grab a YoPup Probiotic Frozen Yogurt Cup for your furry friend- a tasty treat that your pup will love!
Douglas County is full of amazing dog-friendly areas. While you may not be able to bring your dog everywhere, these 7 places are great options! Let your dog free in one of the dog parks mentioned above and then take them to a great restaurant near you with a large patio to finish out the day. You can't go wrong with any of these fun activities!
If you are looking for great outdoor hikes to hit nearby, check out these Top 9 Hikes Within 45 Minutes of Parker, Colorado!
What's your go-to spot to bring your furry friend? Let us know in the comments!