Patio season is upon us! Here are 7 great outdoor dining options in Parker.
Newly opened in 2019, the Blu Note Bar & Grill is Parker's premier spot for live music from Colorado and around the country. As you walk in, you will appreciate their hand-painted murals that cover the walls, which perfectly complements the soothing sound of soulful live music playing on the stage. Whether you're sitting at the bar or have found a cozy table, make sure to check out their unique beer list, delicious craft cocktails, and contemporary food menu.
To better serve their customers, they are open for both dine-in and carry out seven days a week with Happy Hour from 2:00 PM – 6:00 PM. If you are a fan of street tacos, look no further! Blu Note's Taco Tuesday offers delicious chicken or carnitas tacos with a 'Buy 3 Street Tacos, Get 1 FREE' deal! If you prefer something with more meat, they provide mouth-watering menu items like braised short ribs and lamb chops.
To pay tribute to Colorado's 14'ers, West Main Taproom offers 54 Colorado craft beers to represent each peak that has an elevation over 14,000 feet. Their craft beer selection, extensive wine list, and premium liquors aren't the only things that elevate this restaurant. West Main's locally-sourced urban food menu delivers a juicy wagyu steak burger, tasty buffalo chicken sandwiches, vegetarian sweet potato enchiladas and some of Parker's most refined desserts.
Whether you are looking for a casual dinner out with the family, having a date night with your loved one, or simply want to grab a beer at the bar, West Main's restaurant has it all. Their recently extended patio hosts live music to enjoy and features large umbrellas providing much-needed shade from the Colorado sun. They are currently featuring a Summer Concert Series from 6-9 PM every Saturday (weather permitting) and a brand new Happy Hour featuring exclusive deals on both food and drink, starting from 3 PM- 6 PM every day! If you are new to Parker, make sure to put West Main on your list!
Parker Pour House is a locally owned tap house showcasing 25 taps with options varying from craft beers, ciders, wine, and even mead! If you don't have time to enjoy one of their brews in house, they offer to fill your growlers to-go!

Not only do they have a variety of locally crafted brews, but tasty charcuterie boards, delicious meat-packed sandwiches featuring house-made sauces, as well as vegetarian summer salads that you can enjoy in the Colorado sunshine from the comfort of their spacious outdoor patio. Their terrace also offers free wifi, making it a great spot to catch up on emails, eat lunch, and enjoy a refreshing beer, all while soaking in the sun.
Located on Main Street, Tailgate Tavern features live music, food service, drinks, and late evening partying on their patio. While you're there enjoying the lively atmosphere brought to you by a variety of rock & roll, country, and dance music bands, make sure to grab something from their menu. The Tailgate features an assortment of burgers and sandwiches, steak, seafood, as well as items on the lighter side like soups and salads.
If you have read our blog on 'The Best Places to Watch Sports in Parker', you will know that Tailgate Tavern has 11 high-definition TVs, bringing the action to you! Put this on your list of places to go if you want to enjoy lunch with the family, watch sports with your group, or dinner and dancing with your friends!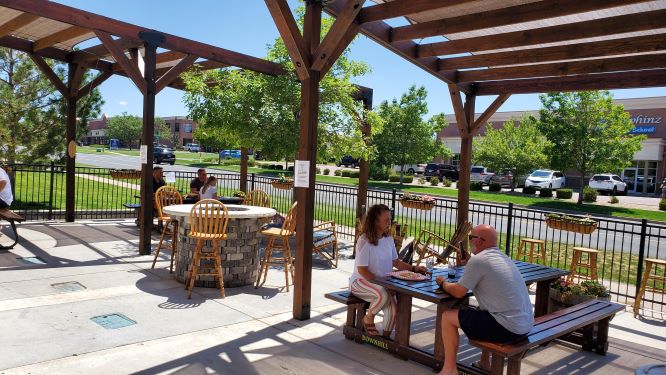 This award winning brewery in Parker offers beer, pizza and a great atmosphere. Downhill Brewing features rotating taps and some darn good thin crust pizza. We're fans of their blueberry sour beer, raspberry stout and peanut butter porter but you can't go wrong with any of their great options!
Downhill's patio out back can seat about 50 people, and there is extended patio seating in the front parking lot as well. Stop by on a Monday to participate in Trivia and a great deal on their pizza or Tuesdays to treat yourself to cheese pizza and a pint for $8!
Kunjani Coffee is the perfect spot to slow down and relax while you enjoy some coffee. Kunjani offers a wide variety of coffee beans from all over the world to please everyone's different taste! Not a coffee lover? No problem, Kunjani also offers teas, frappuccinos, and smoothies, as well as beer and wine in the afternoon!
Stop by their patio to quench your thirst and hunger! Kunjani offers a great food menu that includes breakfast burritos, cinnamon rolls, scones and more!
By going to Kunjani coffee you are not only supporting a great local business but also a great cause. Their mission is to give back to the community and youth who are in need. Supporting this business guarantees your purchase to make a difference in the community.
7. Upper Deck at The Laszlo Hotel
The Upper Deck Gourmet Burgers & Spirits is a second story venue located at the Laszlo Hotel. Their covered 2500 square foot outdoor patio captures Parker's stunning views, cozy sofas surrounding warming firepits, and mounted TV's making it an ideal place to sip on cocktails crafted with local spirits and enjoying something from their American-style comfort food menu!
The Old Tom's Gin Mule, a twist on the classic Moscow mule, and the Shrimp Po Boy sound like the perfect combo for a summer afternoon! Let us know what your cocktail, beer, or food recommendation is down below.